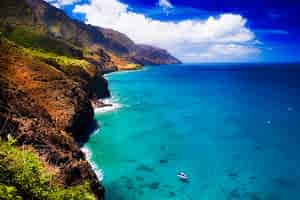 "The Only Way to See the Na Pali Coastline...absolutely perfect

...Double thumbs Up!

"
The Best Way to Explore Na Pali Coast is By Boat
Anyone who has been there knows – Na Pali Coast is one of the true wonders of the world. This fifteen-mile stretch of rugged coastline on the northwest shore of Kauai literally means "the Cliffs." A must-do activity on any Kauai vacation. There are 3 ways to access Na Pali, boat, kayak, hiking, and helicopter. When it comes to discovering the breathtaking Na Pali Coast of Kauai, there's no denying that the best way to immerse yourself in its unrivaled beauty is by boat. Aboard a vessel, you can unlock a world of wonder, adventure, and awe-inspiring sights that are simply unmatched. Let's explore why boat access is the ultimate way to experience the Na Pali Coast.
As Seen In
"We went on the Kauai Napali Coast tour. Not. To. Be. Missed. Snorkeled, hiked, saw whales, turtles and dolphins… and was just awed. Full day. Awesome every minute."
Why Should I Book a Na Pali Coast Boat Tour?
First and foremost, traveling by boat allows you to witness the grandeur of Na Pali's towering cliffs from an optimal vantage point. As you approach the coastline, you'll be greeted by the dramatic emerald spires that rise majestically from the sparkling ocean. The scale and sheer beauty of these cliffs are best appreciated from the water, as their immensity creates an awe-inspiring panorama that will leave you breathless.
The Na Pali Coastline is renowned for its secluded beaches, hidden coves, and enchanting sea caves. Exploring these hidden gems is a privilege that only boat access can grant. Cruise along the coastline, and your experienced captain and crew will navigate the vessel into these secret enclaves, allowing you to witness their unspoiled magnificence up close. On our Na Pali Day Expedition you'll have the opportunity to step foot on pristine sandy shores, dip your toes in crystal-clear waters, and even venture into mystical caves (raft tours only) that have been shaped by the relentless power of the ocean.
Another advantage of boat access is the possibility of encountering the abundant marine life that calls Na Pali home. Keep a lookout for playful dolphins dancing off the boat's bow, graceful sea turtles gliding through the water, and majestic humpback whales breaching in the distance (during whale-watching season). These incredible encounters with wildlife create unforgettable memories that will stay with you long after your journey.
Boat tours also provide a unique perspective on the rich cultural and historical heritage of Na Pali. Knowledgeable guides will regale you with captivating stories about the ancient Hawaiian settlements that once thrived in these rugged landscapes. Learn about the significance of the area, the traditions of its people, and the legends that have shaped its allure. This immersive experience deepens your appreciation for the land and its cultural roots.
Additionally, boat tours offer a level of comfort and convenience that allows you to fully enjoy your Na Pali adventure. Relax in spacious seating areas, savor delicious onboard meals, and take advantage of amenities such as restrooms and sun decks. With a professional crew at your service, you can simply sit back, relax, and focus on immersing yourself in the natural splendor surrounding you.
While there are alternative ways to access Na Pali, such as hiking or kayaking, they require physical stamina, planning, and expertise. Boat access offers a more accessible and inclusive option, allowing people of various ages and abilities to partake in this extraordinary experience.
So, whether you're seeking jaw-dropping vistas, hidden treasures, encounters with marine life, or a deeper understanding of the area's cultural heritage, boat access is undoubtedly the best way to experience the Na Pali Coast. It offers a seamless blend of adventure, relaxation, and immersion, ensuring that your journey will be filled with lifelong memories. Embark on a boat tour and let Na Pali Coast's unmatched beauty unfold before your eyes, leaving an indelible mark on your heart and soul.
Na Pali Coast Guide