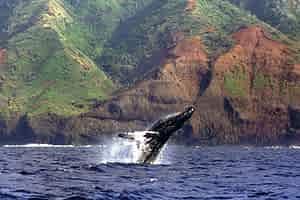 "Five minutes

out of harbor

we were watching 3 whales wrestle...great excursion. Don't question it. Just do it."
Best Time For Whale Watching in Kauai: A Seasonal Guide
Each year Kohola (the Hawaiian Humpback whale) swim from their Alaskan feeding grounds to the warm waters of Hawaii. The whales journey across vast oceans, navigating by instinct alone. Hawaii is their winter home, a place to play, to give birth and to start new generations. From December through April, all Capt. Andy's sailing and raft tours offer an opportunity to view these beautiful creatures in their natural habitat. Peak months for Kauai whale watching are January through March. So, if it's your goal to view whales when visiting Kauai, make sure to plan accordingly
As Seen In
"Awesome day on the water! We went on two different trips with Capt. Andy's during our Kauai vacation. The first was a catamaran snorkeling trip to the Na Pali coast, and the second was a raft whale watching trip. Both were fantastic. The crews were great, and we had such a fun time. We saw several whales and lots of dolphins on both trips."
Kauai Whale Watching Tours with Capt Andy's
Best Time For Whale Watching in Hawaii
The best months for Kauai whale watching are January through March. The best time of the day to whale watch on Kauai is in the morning. The wind is generally gentler in the morning, and the waters are calmer, making it easier to see the whales. Whales are also more active in the morning, as they are feeding and socializing.
Experienced Captains
Capt Andy's has years of whale watching experience having been exploring the Na Pali since 1980. Our captains know how to carefully share the waters with these amazing sea mammals and can provide educational information about the whales on all of the tours.
100 Yard Rule
Our seasoned captains are experienced at scanning the horizon for signs of activity and, when whales are spotted, they cautiously steer towards their vicinity. However, Hawaii's "100 yard minimum" law ensures that boats do not get too close to these endangered species, but it is not uncommon for whales to approach crafts of their own accord, sometimes even swimming under the boat.
Rafts Provide The Closest Action
Ideal for those seeking more adventure, the Wet & Wild Raft Expedition brings you closest to the action. These rapid-moving, 24-foot-rigid-hull inflatables sit low on the water and when whales are encountered, there is a feeling of being right there with them at sea level.
Hydrophones
All of Captain Andy's vessels are equipped with hydrophones which allow for listening to the whale "songs", which can be heard from more than 20 miles away and can last up to 20 minutes.
Hawaii Humpback Whale Guide