Kauai Raft Tours Down Na Pali Coast - Into Sea Caves and Under Waterfalls!
Capt Andy's Wet and Wild Raft Expeditions take you into sea caves and under waterfalls on an amazing adventure down Na Pali Coast. Our nibble and virtually unsinkable Zodiacs (24' rigid aluminum hull rafts) allow you to get closer to the action (weather permitting)!
WARNING: Due to the bumpy and bouncing nature of the ride, we cannot accommodate pregnant women, anyone with any history of back or neck issues, medical conditions or recent surgeries, or children under six years old.
As Seen In
Open Ceiling Cave, Na Pali Coast
With our small, agile Zodiacs, you'll be able to explore hidden coves and sea caves that larger boats can't reach.
If you're looking for a Kauai adventure on the ocean, a Na Pali Zodiac boat tour with Capt Andy's is the perfect choice. Our expert guides will take you on a thrilling journey along the Na Pali Coast, where you'll see stunning scenery and wildlife up close.
All of Capt Andy's raft tours include sea caves when weather permits.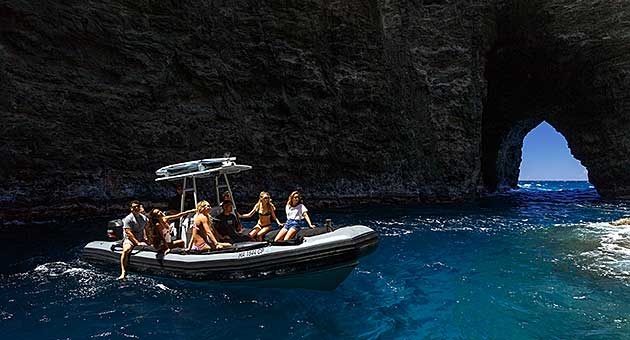 What To Expect on a Capt Andy's Kauai Raft Tour
Na Pali Sea Caves and Waterfalls
Our state-of-the-art Zodiac boats are safe, small and agile, allowing us to dart in and out of sea caves and hidden coves that larger boats can't reach. You'll be able to get up close and personal with the breathtaking scenery and wildlife, making memories that will last a lifetime. Don't miss out on this unforgettable adventure!
Experienced Captain and Crew
Our knowledgeable crew are passionate about sharing their love and knowledge of Kauai's Na Pali Coast with our guests. They are trained in safety procedures and have extensive knowledge of the area's history, geology, and wildlife. You can trust that you're in good hands as they lead you on an unforgettable adventure through some of the most beautiful scenery in the world.
Ocean Wildlife Up Close
One of the highlights of our Kauai Zodiac boat tours is the opportunity to see ocean wildlife up close. From playful dolphins to majestic humpback whales, you never know what you might encounter on your adventure. Our expert guides are knowledgeable about the area and can provide fascinating insights into the behavior and habits of the animals you see. Don't miss your chance to witness these incredible creatures in their natural habitat.
Whale Watching (in season)
If you're lucky enough to join the cruise during the whale-watching season (December to April), keep your eyes peeled for majestic humpback whales. Witness these magnificent creatures as they breach and play in the waters surrounding the Napali Coast, adding an extra touch of wonder to your journey.